Recruiting has wrapped up, most of the transfers have found their new homes. Now it's time to take a look at the Mountain West rosters and see which players are the best in the conference. Starting with Quarterbacks!
1. Jake Haener - Fresno State
Haener is the obvious choice here. Last season He was 2nd (only behind Carson Strong) in yards, TDs, Completion percentage, and rating. Haener is an Elite QB that is poised to lead the conference in passing this season.
Last Seasons Stats: 4,096yds, 33TDs, 9INTs, 67.1%,
2. Hank Bachmeier - Boise State
Nobody in the conference flashed as much talent, toughness, and promise in their first season as Boise State's Hank Bachmeier. If not for injuries, terrible O-line play, and a carousel of coordinators, Hank might be the top QB in the conference. Although he has struggled with some inconsistency, mainly due to the reasons listed above, Bachmeier at times has made throws that would make most NFL QBs jealous and He likely has the highest ceiling of any QB in the conference.
Last Seasons Stats: 3,079yds, 20TDs, 8INTs, 62.8%
3. Logan Bonner - Utah State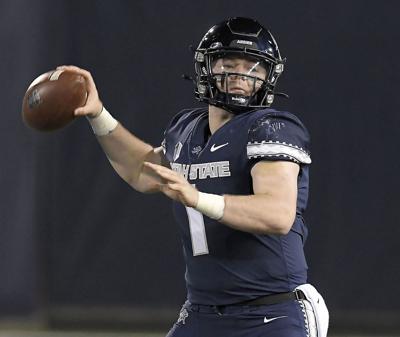 Many might argue that Bonner should be #2 as he was 3rd in yards and rating as well as 1st in the conference in TDs. But Bonner Also led the conference in INTs, throwing an interception in all but 3 games, and was middle of the conference in completion percentage. If not for inconsistent play and too many turnovers USU may have had 1 or two more wins last season.
Last Seasons Stats: 3,626yds, 36TDs, 12INTs, 61.2%,
4. Chevan Cordeiro - San Jose State
Cordeiro was the starter for the Hawaii Rainbow Warriors last season and shocked everyone when he chose to transfer not only within the conference, but within the same division to San Jose State. Cordeiro was decent during his time at Hawaii but never really took that next step in making a name for himself. Maybe SJSU system will be more friendly to him.
Last Seasons Stats: 2,793yds, 17TDs, 11INTs, 55.2% (while at Hawaii)
5. Braxton Burmeister - SDSU
Burmeister is well travelled from coast to coast. A 4 star recruit out of high school Burmeister committed to and played 2 seasons in Oregon as Justin Herberts Backup completing 57% of his passes for 330 yards, 2 TDs and 6 INTs. Deciding he was done being a backup, he decided to transfer to Virginia Tech where he started and completed 56% of his passes for 2,647 yds, 16TDs, and 5INTs. He has been wildly inconsistent and struggled with his accuracy but enters a good situation at SDSU that should allow him to improve.
Last Seasons Stats: 1.960yds, 14TDs, 4INTs, 55.7%
Honorable Mentions:
Cameron Friel - UNLV
Haaziq Daniels - Air Force
Let me know what your thoughts are in the comments.