The college presidents are hanging out in Colorado Springs at a swanky resort. Wait, Colorado Springs has a five star resort! The Mountain West playoff' proposal is not going to pass, but to be nice each president will put in a response to the proposal.
Not that this is big news, and this issue seems dead, well unless old crotchety Utah Senator Orin Hatch, who also moonlights as a song writer, has anything to do with fighting the BCS.
This was not a bad deal by Commissioner Craig Thompson to keep moving forward and pushing for a playoff, because every time the BCS has been mentioned this off season the Mountain West also is mentioned.
Currently there will be no changes in how the BCS bowl situation, which will continue through EPSN's contract which runs through the 2013 season.
Other news that could be of interest to the Mountain West bowl affiliate the Armed Forces Bowl is that the Cotton Bowl is looking for more tenants.
Currently the Cotton Bowl is only hosting the Red River game between Texas and Oklahoma, and after the $57 million renovation the stadium needs other events so the cobwebs do not form inside the storied stadium.
Most of the big games including the Cotton Bow itslefl is being moved to Jerry World, the new Dallas Cowboys stadium.
One option is to move the nearby Armed Forces Bowl which features a team from the Mountain West and then the other opponent has varied from the C-USA and Navy.
The only problem with that is that the paid attendance was 40,000, which wow seems inflated, because I was in person for the 2005 Armed Forces Bowl that featured Utah against Tulsa. That attendance was very poor, partly because of the weather and it could be that Utah is not close by.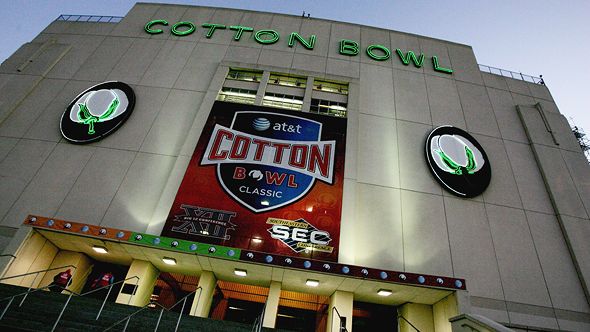 The stadium holds 90,000, and there are all ready a ton of games at the new Cowboys stadium with the Big 12 Championship game, Baylor-Texas Tech, BYU-Oklahoma and Texas A&M-Arkansas.
Unless the Armed Forces Bowl gets a huge upgrade in opponents and this could be a new opportunity for the Mountain West to upgrade their bowl tie-in.
The Mountain West could send their champion to the game and then play perhaps the Big XII, SEC, or Big 10 third team which would be a huge upgrade, or even the C-USA champ partly because of location.
As for regular season rival games there are not many, and SMU-TCU is not going to draw enough people to fill the stadium. Who knows that $57 million could be wasted money, unless there is a solution to add at least another game or two besides the Texas-Oklahoma matchup.
If you like what you read be lazy and Subscribe to The Mountain West Conference Connection by Email or in your Feeder or follow us on Twitter.