Utah and BYU are locks but New Mexico and San Diego State are hanging around, and UNLV is officially eliminated after getting run out of the gym.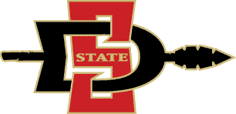 (22-9) RPI 33

In my opinion they are a virtual lock, however with the Big XII, Pac-10, and Atlantic-10 having potential surprise teams taking a bid away from bubble teams. The problem with San Diego State is that they have only 2-5 against top 50 RPI teams which came against Utah earlier in the year, and BYU last night. They have no bad losses, which is a team ranked 100 or lower in the RPI index.
The MWC is an ultra competitive conference and with the Pac-10 and SEC down this year helps SDSU. Obviously a win today gets them an auto bid, and I would put their chances at 60 percent to make the tournament with a loss.
(21-11) RPI 65
All New Mexico really needed to do was to beat Wyoming in the quarterfinals. The team went 12-4 in league play along with sharing the league title with BYU and Utah who are in. They went 3-5 against top 50 RPI, but they have bad losses as well by having 3 sub 101 RPI loses and while getting 10 wins against sub 150 RPI.
This evening will be interesting if either gets in becuase the A-10 is now getting three teams in, USC winning the Pac-10, and the SEC may get an extra team in with LSU not making the conference final.
If you like what you read be lazy and Subscribe to The Mountain West Conference Connection by Email or in your Feeder or follow us on Twitter.