(25-6)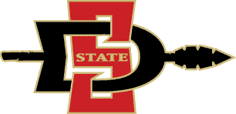 (22-8) 6PM PT TV:
HD
BYU did not look good while San Diego State looks to be the team to beat in this tourney. The Cougars snuck by Air Force 80-69 but the game was much closer then the final score indicated. It took BYU until five minutes left in the game to pull away, but they struggled.
The Aztecs took apart UNLV with little problem 71-57 and looked real good. As stated before, SDSU has the best overall talent in the league and if they do what they did against UNLV then BYU will be in trouble. Lorenzo Wade of SDSU had a double double in the first game with 20 and 10 rebounds, plus San Diego State had four players in double figures.
BYU had its typical players step up in scoring with Jonathon Tavernari, Jimmer Fredette, and Lee Cummard. BYU will need to step up their defense and play like they did in the second half of the AFA game where the Cougs scored 42 points in the second half.
My opinion is that San Diego State will win this game
(22-9)
(19-12) 8:30PM PT TV:
HD
If anyone read my twitter post the 'upset' of Wyoming over New Mexico came true. The Utah game was much closer then it should have been and it came down to a Laurence Bora three pointer with under one second left.
Luke Nevil had a terrible game with 10 points and 8 of those came from the free throws. Luckily the Ute defense did just enough to slow down TCU, and hope that last game was their mulligan and here on out Utah will come back to form.
Wyoming winning was not a real shocker Brandon Ewing who I feel is the best player in the league scored 20 points and lead Wyoming from behind to defeat co-champs New Mexico.
This game is very interesting, because Wyoming has some athletes and Ewing has the capability to explode and take over the game. Utah must get Luke the ball inside and not have him get into foul trouble, which was part of the reason he had only 10 points.
The three point line is what Utah needs to defend, because last night the Pokes were 10-19 which kept them in the game. Neither team plays more then eight deep, so fouls could come into play in tonights game.
Expect this game to be a very, very good matchup and do not be shocked if Wyoming pulls this out. They have the scorers to blow up for a lot of points.
Utah must shoot the ball better after their poor performance against TCU. I expect Utah to win, but Wyoming cold spoil everyone and win this on their way to a potential NCAA berth.
If you like what you read be lazy and Subscribe to The Mountain West Conference Connection by Email or in your Feeder or follow us on Twitter.