That loud noise south of Salt Lake is BYU fans yelling in horror after getting crushed against TCU. This game was not even close and this night TCU could have beaten anyone in the country and that includes Texas, LSU, Alabama, and anyone in the country.
The start of the game with the early turnover and then the 4th and one miscue gave way for TCU winning. The BYU offensive line which had only given up two sacks all year gave up six tonight. Turnovers hurt BYU with four on the game, and that first series is where the game seemed in TCU's favor.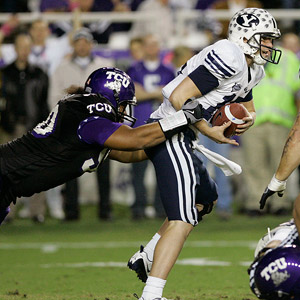 Max Hall was sacked and fumbled the ball, and then on the next play TCU had a 25 yard touchdown pass, then BYU went three and out but was luck to recover the punt that bounced of a TCU player. Three plays later BYU had a fourth and one at 27, so the Cougars were within field goal range decided but decided run an off tackle play by Harvey Unga which did not net the one yard needed.
TCU then drives down the field to go up 14-0, right then is where most people felt BYU had already lost the game. Who knows what would have happened if BYU kicked and made the field goal. Not to say told you so, but I pointed back in the Utah State game recap that the BYU secondary and their overall defense was vulnerable.
TCU had the much better athletes and were just outplayed and out coached, which is what was said by coach Bronco Mendenhall in the post game. TCU did show some trickery by running wide receiver Jeremy Kerley out of the shotgun for a direct snap which worked multiple times.
One thing to consider about TCU is that was this a one time performance or will TCU continue this type of success, but do not forget that the week early TCU escaped 13-7 over Colorado State. Also, TCU Coach Gary Patterson had a BYU helmet on a tackling dummy and kept saying to his squad how important this game is, because of how good BYU has been the past two years.
Next week when TCU plays Wyoming we will see if TCU comes out and destroys the Pokes. The loss by BYU opens things up for Utah to be the new club house leader for a BCS bid from a non automatic qualifier, plus this loss ruins what could have been a historic Holy War with two undefeated teams in the top 10.
Below, is some audio from Fort Worth gathered by ESPN and Salt Lake Affiliate 1320 KFAN.
ESPN Blogger Graham Watson
BYU Head Coach Bronco Mendenhall
BYU QB Max Hall
BYU WR Austion Collie
BYU David NIxon
BYU DL Jan Jorgenson