This should and I emphasize should, because I am going to try to make this be a regular feature appearing Sunday or if I am lazy Monday. This will be all the post game reatction from players, coaches, and the media everything from quotes, links, audio, photos, and video will be posted for each game.
Air Force 31 Houston 28
After being relocated to Dallas on Thursday and having the game time pushed back for a second time to 10 am because of Hurricane Ike, the University of Houston Cougars pushed aside a lackluster first half performance to rally within three points. ~ UHCougars.com
"We've got to be able to play right when the game starts," said Cougars coach Kevin Sumlin. "We have to be able to play for 60 minutes, and we haven't done that yet." ~ Houston Chronicle
"It was scary," Air Force defensive coordinator Tim DeRuyter said. "That second half they got it cranked up and got us on our heels. Thanks to our offense for getting a couple first downs there at the end." ~ Denver Post
Wyoming 16 NDSU 13
"It was 13-13 and we didn't make any big mistakes. NDSU got wild towards the end and threw that interception, but we
were a little more conservative. ~ Joe Glenn, Wyoming Head Coach
"We knew we needed to come out and win. We started out slow in the first half but came out in the second half and reall got things going." ~ Devin Moore, Wyoming Running Back
TCU 31 Stanford 14
"We are 3-0; that's what our goal was. To get to the end of this game, any way we could do it, and be 3-0. ~ TCU Coach Gary Patterson
"We did well at times, but they had a lot more offense than we did today. That's what determined this ball game. ~ Stanford Coach Jim Harbaugh
BYU 59 UCLA 0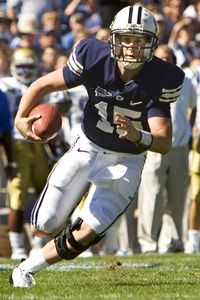 "It was a complete game in terms of the offense performing well, the defense performing well, and some key special teams' play." ~ BYU Coach Bronco Mendenhal
As its 59-0 domination over UCLA proved, this BYU football team belongs in the discussion for BCS bowls. The Cougars are that good, no matter what anybody thinks about their controversial win last week over Washington. ~ PK 1320 KFAN
BYU proved Saturday that it's much closer to perfection than UCLA is to mediocrity by routing the Bruins 59-0 at LaVell Edwards Stadium. It was the Bruins' worst defeat since a 76-0 loss to USC in 1929. ~ Mark Schlabach ESPN.
[audio=http://www.thefansports.com/blog/1/custom/0913bronco.mp3]
Bronco Mendenhall
[Audio=http://www.thefansports.com/blog/1/custom/maxaustin913.mp3]
Max Hall/Austin Collie
[audio=http://www.thefansports.com/blog/1/custom/sjohnson913.mp3]
Scott Johnson
[audio=http://www.thefansports.com/blog/1/custom/jan913.mp3]
Jan Jorgenson
[audio=http://www.thefansports.com/blog/1/custom/collie913.mp3]
Austin Collie
San Jose State 35 San Diego State 10
SJSU answered any concerns about its sluggish running game by gaining 293 yards, led by Yonus Davis' 143-yard effort and 95 yards from freshman Brandon Rutley. That was more than enough for SJSU's defense, which didn't allow a touchdown and yielded just 146 yards~ Mercury News
Utah 58 Utah State 10
Matt Asiata scored three touchdowns rushing and Brian Johnson threw for two more and No. 22 Utah defeated Utah State 58-10 on Saturday night. ~ Associated Press
[audio=http://www.thefansports.com/blog/1/custom/KyleWhittPostUSU.mp3]
Kyle Whittingham
[audio=http://www.thefansports.com/blog/1/custom/BrianJohnsonPostUSU.mp3]
Brian Johnson
[audio=http://www.thefansports.com/blog/1/custom/PaulKrugerPostUSU.mp3]
Paul Kruger
[audio=http://www.thefansports.com/blog/1/custom/MattAsiataPostUSU.mp3]
Matt Asiata
New Mexico 36 Arizona 28
Rodney Ferguson ran for 158 yards and two touchdowns and freshman James Aho tied a school record with five field goals to help New Mexico beat Arizona 36-28 on Saturday night. ~ AP
"The defense came in and stoned them, I thought that made a huge difference in the momentum of the game."~ New Mexico Coach Rock Long
UNLV 23 Arizona State 20 OT
Malo Taumua blocked a field goal to lift UNLV to a 23-20 overtime upset of No. 15 Arizona State on Saturday night. ~ AP
<!-- start sidebar table -->