Alex Smith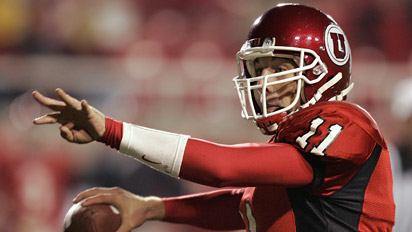 AP Photo/Douglas C. Pizac
He lacks the longevity of many "faces," but Smith made the most of his time at Utah. For starters, he took only two years to earn his economics degree and was working toward a master's while leading the Utes to the greatest season in school history. Smith passed for 2,952 yards and 32 touchdowns with just four interceptions in 2004 as Utah became the first non-BCS conference team to earn a BCS berth. After riding the bench as a freshman, he went 21-1 in two seasons as the starter and became the first Utah player to be a Heisman finalist. Smith's rapid rise made him the school's first ever No. 1 overall draft pick. -- Adam Rittenberg
ESPN.com's Signature Quote
<!-- Signature moment content starts here-->"He is the best football player that I have ever been around. He is one of those guys if you take his intangibles and put him at any position, you will probably get the best player at that particular position." -- Former Utah coach Urban Meyer.
Others who were considered
Jamal Anderson Junior-college transfer led team in rushing in 1993, had five 100-yard games and went on to All-Pro career with Atlanta Falcons.
Luther Ellis The three-time All-WAC selection earned consensus All-America honors as a senior and holds Utah's tackles for loss record (29).
Steve Smith Smith twice led Utah in receiving and as a standout return specialist earned all-league honors. The Carolina Panthers' speedster holds the school record for yards per catch (20.55)