Sammy Baugh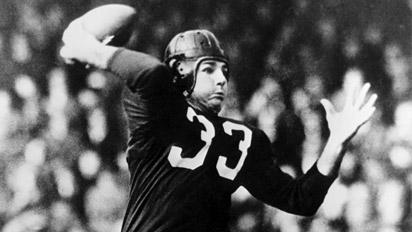 Getty Images
In an era where passing was taboo, Baugh redefined the quarterback position. He came to TCU to play both football and baseball but sizzled for Dutch Meyer on the gridiron, leading the Horned Frogs to the 1935 national championship. Baugh was a consensus All-American the next season, guiding TCU to a victory in the inaugural Cotton Bowl. He led the nation in both passing and punting his final two seasons at TCU. After a stab at professional baseball, Baugh brought his passing skills to the Washington Redskins, winning an NFL championship as a rookie. He was a charter member of both the College and Pro Football Hall of Fames. -- Adam Rittenberg
ESPN.com's Signature Quote
<!-- Signature moment content starts here-->"When I got in the pros, they had the silliest rules. They favored a running game and a defensive game, and Dutch had taught us just the opposite." -- Sammy Baugh
Others to consider, but is it really close
Bob Lilly Leader of defense that allowed eight points per game from 1958-60, he was an All-American tackle and College Football HOF.
Dutch Meyer

Meyer was the school's all-time winningest coach, captured the 1938 national championship and going 109-79-13 in 19 years.
Davey O'Brien

Led TCU to national title in 1938 and was the first player to win the Heisman, Maxwell and Walter Camp awards in same season.
LaDanian Tomlinson

TCU's all-time leading rusher won Doak Walker in 2000, twice leading the nation in rushing. He owns NCAA single-game rushing record.