Brian Urlacher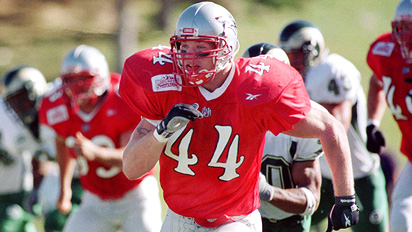 AP Photo/Jake Schoellkopf
Urlacher hoped to play at Texas Tech, but the Red Raiders never offered a scholarship and New Mexico benefited big-time. The athletic marvel played sparingly as a freshman but found his niche in his final two seasons. In 1998, Urlacher moved to Lobo-Back, a linebacker-safety hybrid, and led the nation with 178 tackles. He was a consensus first-team All-American as a senior and posted two of the top five tackles totals in school history. Urlacher became the highest draft choice in school history when the Chicago Bears selected him ninth in 2000. He has played in six Pro Bowls with the Bears. -- Adam Rittenberg
ESPN.com's Signature Quote
<!-- Signature moment content starts here-->"Only three days after he reported to UNM, it was obvious he was a special player. We scratched our heads and wondered why others didn't see in him what we did." -- Coach Dennis Franchione, who recruited Urlacher to New Mexico.
Here are some others who were considered
Rocky Long
Former WAC Player of the Year for Lobos, he's become winningest coach in school history (led team to five bowl games).
<!--[if !supportEmptyParas]--> <!--[endif]-->
Terance Mathis
School's first consensus All-American (1989), he set Division I record for receiving yards (4,254).
<!--[if !supportEmptyParas]--> <!--[endif]-->
<!--[if !supportEmptyParas]--> <!--[endif]-->