BYU has the tradition from the 70's to the the late 90's thanks to the Coach LaVell Edwards. Even though there were great players from Steve Young, Ty Detmer, Robbie Bosco, Jim McMahon, and other QB's they were partly great due to the legendary coach.
LaVell Edwards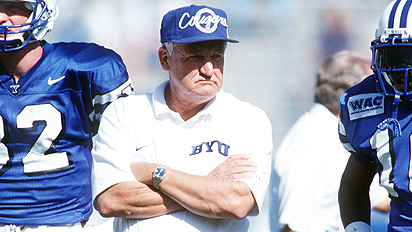 Andy Lyons/Getty Images
As college football became more pass-oriented, Edwards was well ahead of the curve. He coached BYU from 1972 to 2000, making the Mormon institution a football powerhouse and a quarterback factory. The Cougars had 26 consecutive winning seasons before going 6-6 in his final year. Before Edwards' arrival, BYU had just one conference championship, but then captured 10 straight from 1976 to '85. In 1984, Edwards guided BYU to the national championship and was named National Coach of the Year. He coached Heisman Trophy winner Ty Detmer and 11 consensus All-Americans. Edwards retired after the 2000 season with a record of 257-101-3, and before his last game, BYU's stadium was named in his honor. ESPN.com's Signature Quote
<!-- Signature moment content starts here-->
"He may not be at the head of the class, but whatever class he is in, it doesn't take long to call the roll." -- Coach Bum Phillips on Edwards' contributions to college football
Others who were considered are these players below, the one other 'thing' that could be considered would be to choose the Quarterback position, because of the great passers who have came through the system but that goes back to the coach LaVell Edwards who also has the stadium named after him.
Robbie Bosco Led BYU to 1984 national title, topped nation in passing and finished third in Heisman. Finished with 24-3 record as starter.
Ty Detmer Only BYU player to win Heisman (1990); broke 59 NCAA records including passing yards (15,031); won two Davey O'Brien Awards.
Jim McMahon Set 71 NCAA marks; twice led nation in passing; won Sammy Baugh and Davey O'Brien awards in 1981, third and fifth in Heisman.
Steve Young Broke 13 NCAA records as nation's top QB in 1983; Heisman runner-up; member of College and Pro Football Hall of Fame.