ESPN recently had a face of the program for football for each school in the FBS division. This is an obvious choice for the Falcons face of the program.
Fisher DeBerry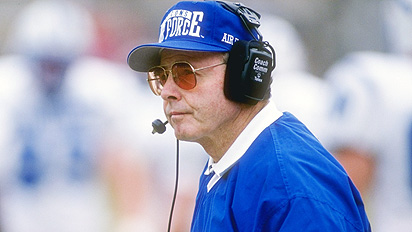 Todd Warshaw/Icon SMI
Air Force football immediately conjures up images of the triple option and the man who ushered it in. In DeBerry's 23 years as coach, the Falcons had 17 winning seasons and reached 12 bowl games. He finished as the school's leader in coaching victories (169) and winning percentage. DeBerry won WAC Coach of the Year three times and earned National Coach of the Year honors in 1985, when Air Force finished eighth in the AP Poll. The Falcons won eight games or more 11 times during DeBerry's tenure and won the Commander-in-Chief's Trophy 14 times.
ESPN.com's Signature Quote
<!-- Signature moment content starts here-->"No one, I mean no one, has meant more to Air Force football and maybe academy football than Fisher DeBerry. There will never be another." -- Former Denver Broncos general manager Ted Sundquist, who played at Air Force when DeBerry served as an assistant coach.
The only other people who could be considered would be these below and out of these the only one to really consider would be the Cadet Wing since that is an everlasting tradition at the Academy.
The Cadet Wing: Section of uniformed cadets provides unique home-field edge for Air Force at Falcon Stadium.
Dee Dowis: School's all-time leading rusher (3,612 yards) finished sixth for 1989 Heisman, was All-American and WAC Offensive Player of the Year.
Chad Hennings: Outland Trophy winner in College Football Hall of Fame, school's career sacks leader (34), won three Super Bowls with Dallas.
Beau Morgan: First player in NCAA history to twice eclipse 1,000 yards for rushing and passing, twice broke NCAA record for quarterback rushing.