[digg http://digg.com/football/Offseason_Update_Utah_Football]
Perusing this wonder called the interweb to bring everyone news about the MWC. Here is a good article from ESPN's Non-BCS Notebook
The article is very accurate about the Utes running attack that should mimic the great combo rushing attacks of years past with Matt Asiata coming back from injury to team up with Darrel Mack plus others.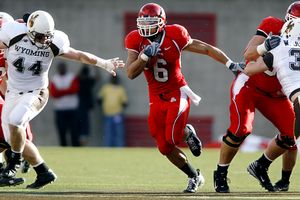 Kyle Whittingham has watched other impressive running back tandems stutter-step their way through Utah's program, but the best combination could be unveiled this fall.
Darrell Mack ran for over 1,200 yards last year.
"We had Dameon Hunter and Adam Tate years ago and then Marty Johnson and Quinton Ganther in '04, that great season that we had," said Whittingham, who will enter his fifth season as Utes' coach. "Now Darrell Mack and Matt Asiata, that's as good a 1-2 punch as maybe we've ever had."
Asiata, who broke his right leg the 2007 opener against Oregon State and missed the season, went through spring practice with no setbacks. He rejoins Mack, who replaced him last fall and racked up 1,204 rushing yards and 12 touchdowns.
Both backs headline a power running game, with Asiata checking in at 235 pounds and Mack around 220. Reserve Ray Stowers is also in the 220-pound range, and the Utes' boast a "change-up back" in slashing freshman Eddie Wide.
The crowded backfield has prompted Utah's coaches to adjust the offense so they can accentuate the rushing attack.
"The spread offense that we run, the starting point is the run game," Whittingham said. "People think it's a pass-happy, throw-the-ball-all-over-the-parking-lot type offense, but when you run it effectively like we did in '04, [quarterback] Alex Smith had great numbers rushing the football. [Tim] Tebow last year for Florida, Pat White for West Virginia, they all run essentially the same offense."
Utah limited its contact work throughout the spring, with players like Asiata and starting quarterback Brian Johnson recovering from injuries. Johnson underwent shoulder surgery in February and was throwing at about 80 percent by the end of spring ball.
Asiata, who used a redshirt last season and retains two years of eligibility, was pleasantly surprised at how the leg felt throughout the spring.
"I did everything but contact," he said. "We didn't want to risk it. I wanted to go full-go this spring. I wanted to hit somebody, but the coaches said keep your head up, just stay on your feet."
Utah wide receiver Freddie Brown has worked his way into a starting spot after being "the most pleasant surprise of the spring," coach Kyle Whittingham said. Brown, a senior who ranked fifth on the team in receptions with 20 last fall, vaulted to the first-team offense alongside Bradon Godfrey and Brent Casteel.
This just adds to the depth of the Ute receivers with JUCO transfers and last years crop of Freshman should make this offense one of the tops in the league and will challenge BYU for the best offense.
"He's got great size, 6-3, about 215 pounds," Whittingham said. "We're looking for Freddie to have a productive year for us."
Whittingham also praised the play of backup quarterback Corbin Louks, who provides depth behind oft-injured starter Brian Johnson.
Again looking at last years smart coaching move to bring in Louks at times to have a change of pace and throw the defense off. Louks probably will not get as much playing time during key points, but look for him to still get maybe 2 to 4 important snaps a game for a new look.